The reaL deaL


As you might not know I'm a fan of MMA and K-1... So tonight the half Brazilian half Japanese Lyoto "The Dragon" Machida dominated and KO'd an undefeated American champion and took his belt...he made the other guy look like an amateur... Both fighters were undefeated so how did Machida totally outclass the other guy? The other guy was 18-0 and hella hyped up...

Because Machida is on a whole other level... The other guy got into martial arts late in life...because of a reality TV show 0_o

Now what does this have to do with film? Well... before a fight theres all this hype and all the "experts" talk about how great a guy is... and how he beat all these other "good" fighters...... and people buy into it and believe it...

Just because someone has a belt... it doesn't mean they are a true champion....

Now think about a Hollywood movie... before the movie comes out... there all this hype..."expert" reviewers *paid off* talking about how great it is ....How it won at all these film festivals and how is going to win all these awards and people buy into it and believe it...

Just because a film wins awards.. it doesn't mean it is the best there is...

Now a movie differs from a fight in that they can use all this smoke and mirrors and loud fancy sound effects and flashy things to make you think the movie in winning...

Now in a fight once the two guys get in the ring... none of that hype, flash, and expert testimony matters.. and you cant use smoke and mirrors... the person who is more skilled and better prepared wins most of the time...

Sometimes true champions get belts...

Machida lives and trains in a small village in Brazil... He's been training in martial arts since he was a small child... he doesn't do it for the fame or fortune...he takes pride in being the best and thats why he does it... He can do everything... he can strike, he can wrestle, he can submit people... When you work harder and are more dedicated and focused than everyone else it puts you on another level...

No one really does this because of the time and dedication involved... hence the mediocrity that pervades all aspects of American culture... everyone wants everything FAST...they have "no time" to really develop anything of greatness...and this new "culture of brevity" as a new genius friend from Iceland described to me...its only getting worse... look at the world around you... mediocrity everywhere for the quick buck... because it was easier...

I get emails all the time from very young people who want to be animators or whatever and most of them expect too much too fast... it doesn't work that way... you have to GRIND for years to be great at something... its like grinding in games except it takes REAL years to get to level 68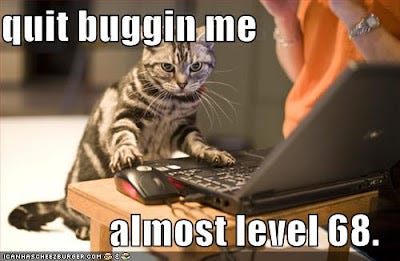 You can work a little and fake it....but when the day comes that your tested against the real deal you will fall....How do you get there? You don't talk... you WORK... you GRIND... alone... in solitude... you lose yourself in your goal... you kill yourself to live again later as a better person... you sacrifice yourself for your goal....

Now the FUNNY thing was as the American d00d was getting his ass beat he was trying to talk shit?! His jaw was yapping and he was getting punched in it before he hit the canvas and was KO'd... Yeh thats what us Americans do... we make excuses...we talk shit... but in the end... you either win or you lose... it doesn't matter what you say... history is the ultimate judge... and we know the truth... So we can talk and make excuses but I think its better to just shut the hell up and do what we gotta do cause in the end we know the truth... you can't escape from yourself or the truth so why try?

Now I see myself as someone who trains in a small room in a city in California...and I have been training since I was a kid... I'm not doing it for fame and fortune... I want to be the best I can be and thats why I do it...

Hollywood will always provide it's WEAK directors with the crutches they need to make films with their huge crews and fancy effects teams and massive budgets etc... and hand them shiny awards.... If there were a competition where directors had to sit in a ring alone and make an entire film by them myself who do you think would win? Them or me? Thats not fair right? Cause they don't have all the skills? Why is it not fair? YOU SHOULD DEMAND THE BEST FROM YOUR ARTISTS...its not OK TO BE GOOD ENOUGH... Oh they don't have time to make great things yeh...... they don't have time to get more skilled they are too busy driving around in fancy cars and yapping on cell phones.... they gotta hurry and shovel garbage into your brain so they can get your money I forgot...

NOW I think this is what we should demand from the world around us... DEMAND GREATNESS... DEMAND things of value from your filmmakers... REJECT MEDIOCRITY... IF you accept it... IT WILL BECOME A PART OF YOU... now I think this applies to all aspects of life...

I don't know about you... but I see human technology advancing by leaps and bounds but I see the human race moving in the opposite direction here in America... WE ARE NOT OUR TECHNOLOGY it is a crutch... we need to take pride in ourselves and in our work... not in our technology... anyone can use the technology... but no one else can be us... IF we are honest with ourselves an we become the individuals we are supposed to be... no can take that away from you and no one can beat you at being a better YOU

Ask yourself... Do I want to be great or do I want to be mediocre? You can pretend to be great without making the sacrifices but one day you'll find yourself in the ring with a Lyoto Machida and he'll show you what you really are... a TRUTH you can never escape...

The day will come... will you be prepared? I M.Brought to you by professional weirdo M dot Strange.